Today is a good day. These are the dog days of winter. (Weird expression, right?!) The holidays are over. It's colder than we like. (Right Florida folks?) We're nearly four full weeks in to the new year and spring seems sooo far away.
I keep having to remind myself that the days ARE getting longer…so that's something! And, wow, my happy-helping OttLite lamp again is working wonders this year. (That's my full-spectrum desk light that I use this time of year.) I can definitely feel a difference in my mood, and I'm convinced it even played a big part in helping me study recently.
See, when the clock struck midnight on New Year's Eve, it signaled a huge shift in my professional life. It meant going from full-time self-employed marketing consultant and only part-time studying-to-be-a-personal-trainer student to just being a full-time studier for the three weeks I had until my exam. Under the constant glow of my plug-in sunshine, I studied 10-12 hours a day…and I passed my personal trainer certification exam last week. Can I get a woop woop?! (Next up is the health coach certification. And about the time I finish that, we should have real sunshine on our doorstep. So stay tuned!)
Anyway, back to the winter blues we can all get bitten by…. Certainly, my sunshine lamp helps. But also, I find that eating well—eating nutritiously—makes an even bigger difference for me than at any other time of the year. So here's a delicious soup recipe, created by yours truly, using one of my favorite winter squashes to help you celebrate a cold winter's night (instead of curse it).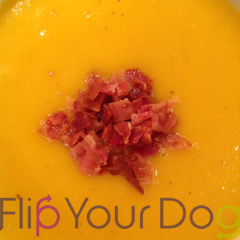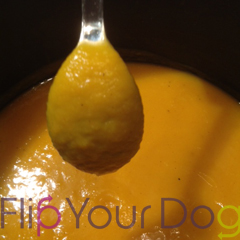 Bacon-Kissed Butternut Squash Soup (Dairy-Free! and also delicious sans bacon)
created by Cari Pierce/Flip Your Dog LLC
makes 4-6 servings
2 butternut squashes (approx 6 lbs whole), peeled, seeded & cut into about 1″ pieces
1 1/2 cup water
2-3 leeks (approx 1 1/2 lbs whole), remove dark green parts & ends, halve, then slice thinly
2 TBSP extra virgin olive oil or coconut oil
4 cups vegetable broth
1 TBSP maple syrup, optional
2 bay leaves
1 tsp smoked paprika
1/4 tsp celery salt
1/4 tsp dried corriander
1/8 tsp nutmeg
1/8 tsp cayenne pepper
pepper to taste
3-4 pieces of cooked bacon, crumbled
Preheat the oven to 400 degrees. Prepare the butternut squash and place it in a baking dish, add 1/2 cup water. Cover with foil and cook in oven for approximately 50 minutes or until squash is completely tender. Stirring occasionally. (You can certainly cook the squash in the microwave if you want…just cover with plastic wrap instead and microwave on high, no stirring necessary, for approximately 10-15 minutes or until completely tender.)
While squash is cooking, cut and clean leeks. (Leeks need to be thoroughly rinsed. I like to slice them, put them in a bowl and cover them with enough water that the leeks float. Swish them around with your hand, then scoop them out and place them on toweling to dry. Dry them well!)
When there is about 10 minutes left on the oven time for the squash, start cooking the leeks. Place a soup pot on the stove and heat the olive oil in the pot over medium heat. Add the leeks. Saute for about 8 minutes, stirring frequently. Remove the squash from the oven and add it (and the liquid in its dish) to the soup pot. Cook for 4 minutes. Then add the vegetable broth. Raise the temp and cook about 5 minutes to bring the contents to a boil. Remove the pot from the heat and scoop its contents into a blender in batches. (It usually takes me about 4 batches.) Blend each batch for about 30-45 seconds or until the mixture is well pureed. Pour each blended batch into a separate bowl for now (or do like I do and pour each blended batch into the baking dish that's already dirty). Once the last batch is blended, I give the inside of the soup pot a quick rinse a the sink to remove any stringy squash pieces or leek remnants. Put the pot back on the stove, pour the blended soup back into the pot and set the burner on medium heat. Use the remaining 1 cup of water to rinse the blender, swish it around and pour all the remaining soup goodness AND water into the soup pot. Add the syrup, bay leaves, spices and seasonings. Stir well. (At this point, depending on the weights of your squash, you may need to add a bit more water, BUT this soup is supposed to be thick. I'm showing you a picture of it clinging to the back of my spoon so you can identify the desired consistency.) Reduce the heat down to low and simmer for 5 more minutes. Remove the bay leaves and serve the soup. Don't forget to top it with the crumbled bacon if you really want a tasty flavor combination. ENJOY!
If you try the recipe, let me know how you like it! I wrote the recipe over three different times of making the soup to be able to share it with you, but I'm definitely more of an improvisor when I cook, so feel free to improvise as well…though I can tell you that you do NOT want to substitute the leeks with onions. Trust me. You don't. The delicate flavor of the leeks is part of what makes this soup so yum.