Today is a good day. Last night was a different story. But today…today is good.
My plan last night was gym, grocery store, then home to make the yummy vegetable burrito bowl I was craving. I made it to the gym and made it 59 minutes into my 60-minute workout. That's when I felt a pull and a pinch and then P.A.I.N. Ugh. I had strained a calf muscle.
I came home immediately for that all-important RICE therapy, wanting to get as quick a start to the healing process as possible. With no food in the house, dinner was soup.
Today, my calf feels less than, but my attitude has improved significantly. This won't stop me. I will heal. I will find ways to work out the other parts of my body. I'll be a little more watchful of my nutrition. And before long I'll be back to 100% and back in that gym.
In the meantime, I'm going to have to wait for hubby to help me at the grocery store later this evening. So I won't be eating my veggie bowl for dinner tonight either. (Insert very sad face here.) But that doesn't mean you can't enjoy it! Here's the recipe.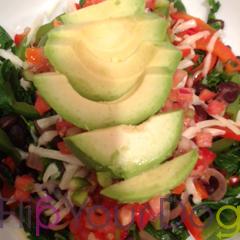 Veggie Burrito Bowl
created by Cari Pierce/Flip Your Dog LLC
makes 2 servings
2 TBSP extra virgin olive oil or coconut oil
2 bell peppers (I like red, poblanos work too), cut in half rings
1 medium onion (yellow or red), cut in half rings
4-6 cloves garlic, minced (I love a ton of garlic so I use 6)
8 oz kale, stack leaves, roll into a cigar shape & slice to julienne
juice of 1/2 lime
1/3 cup water*
1 15-oz can black beans, drained & rinsed
1 oz monterey jack cheese, grated (you can use low-fat if you want)
1/2 cup fresh salsa (I buy this in the produce section)
1 ripe avocado, peeled & sliced
Heat the oil in a large skillet over medium-high heat. Add the peppers, onion and garlic. Sauté for about 6-8 minutes or until the peppers are soft and the onions start to become transparent. Add the kale. Add the lime juice and water. Cover. Cook, stirring occasionally,  about 5 minutes or until kale is soft and has reduced in volume. Add beans. Cook another 3-5 minutes. Spoon into serving bowls. Top with cheese, salsa and avocado slices. ENJOY!
*If doubling or tripling the recipe, do NOT fully double or triple the water amount. You just want to provide the liquid so that the kale steams somewhat when you put the lid on the pan. Use your judgement! Cooking is all about experimentation and fun anyway.